Contractor's Letters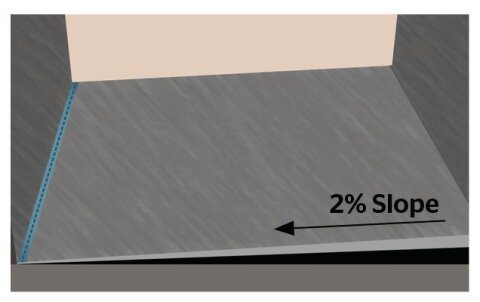 Bathroom Floor Slope your letter dated 23rd December Ref –xxx 180
Ref                                         : XXX/1437/XXX-050
Date                                      : 03th July XXX
To                                           : XXX ENGINEERING AND CONTRACTING
Attention                            : Mr. xxx
Project                                 : XXX STAFF ACCOMADATION
Subject                                 : Bathroom Floor Slope your letter dated 23rd December Ref –xxx 180
Dear Mr. xxx,
Regarding the slope in our bathrooms I would like to give you an explanation, the same which we had discussed during my visit to your office on 25th Thursday December xxx.
Regarding the Slope in our bathrooms the following points needs to be considered in general,
There are 2 areas in the bathroom a Wet area and Dry area.

Wet area: It is the shower area which is considered as a wet area in a bathroom. There if you see in our pods had enough slope designed and provided as in the approved drawings. 
Dry Area: The other side of the shower area in the bathroom is the dry area, where the drain is provided to clean the bathroom and wipe out the excess water. It was designed and builds for a flat surface as in the approved drawings. But xxx have considered a local slope of 5mm in the floor. The Wet area and dry areas are separated by a high threshold.

We had various discussions about the designs and the slope was a topic which then agreed. The same is been reflected in the drawings submitted and approved. To remind this I am attaching a letter from you (Ref No: xxx) in which the consultant is asking us to remove the cutout around the floor drain area. The same slope 5MM was distributed around the floor and it is impossible to provide more slope without cutting the tiles like you have in the shower.
Also we had 2 mock ups at site which also was approved, after which we have started the production.
Hope this is very clear and reminds you the process we had gone through before we started the production of these pods.
We hereby request you to kindly discuss these details with the client and come to a conclusion.
Thanks and as always your support is highly appreciated.
Regards,
xxx
Projects Manager