Contractor's Letters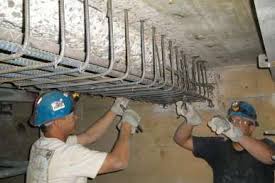 Regarding quotation for strengthening of Beam / Beam jacketing
Date:               xxx
Ref:                 CC/269/eF/02
To:                   TALA CONCRETE REPAIRS
Kind Attn:     Mr. Abdur Rahman
Project:          2B + G + 14+ Lower Roof Hotel Building on Plot No. 373-1297 at Al Barsha  1st, Dubai U.A.E
Subject:         Regarding quotation for strengthening of Beam / Beam jacketing
Dear Mr. Abdur Rahman,
We are attaching the required concrete quantity and Beams surface area as well as drawing. Kindly provide your best quote as we discussed.
Total quantity of the concrete is                 11.82 cum
The total surface area of the Beams is        98.47 sqm
Materials will be supplied and scaffolding will be erected by the Chirag Contracting LLC
Your quote for Drilling, Anchoring and shuttering
Core cutting and pouring of concrete will done by chirag Contracting LLC
Pump for concrete and supervise by Tala Concrete Repairs
Latter of Guarantee to be provided as we discussed.
Regards,
For xxx Contracting L.L.C
xxx
General Manager