Contractor's Letters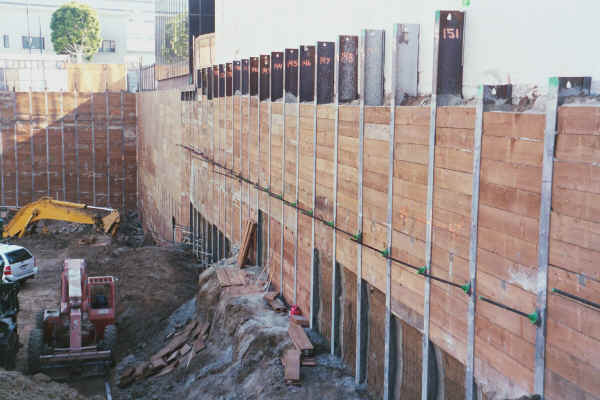 Existing position of the pile from plot limit at the outer face of the retaining wall
Date: xxx
Ref. xxx
To:
M/s. xxx Consulting Architects and Engineers
Dubai, UAE
Kind Attn:     Mr. xxx
Project:          2B + G + 14+ Lower Roof Hotels Building on Plot No. xxx at Barsha, Dubai.
Subject:             Existing position of the pile from plot limit at the outer face of the retaining wall with 7cm margin for water proofing and guniting.
Dear Sir,
            With reference to the above, we are here by submitting our comparison of the readings between the outer face of the existing pile and the retaining wall outer face. Kindly note the following:
FOR RIGHT SIDE SHORING ISSUE
From plot limit we have outer face of the retaining wall which is 1.1m in our approved drawing.
We've been added 2cm water proofing and 4cm guniting total of 6 cm from the line of 1.1 m. That is the outer face line of the retaining wall and total distance from the plot limit by adding the margin of water proofing is 1.1 + 0.02 + 0.04 = 1.16m.
We've been subtracted the existing shoring readings from 1.16m, that is the final surface reading at water proofing. All the differences have been shown in the metrics format for your review.
The 6 number of the piles do not have the margin for 6cm. We only have between 10mm to 20mm.
One pile is 57 mm out of 1.16 m line; that is the line of RCC wall, this pile need to be modify or final decision will be taken from your end.
FOR REAR SIDE SHORING ISSUE
This pile area was modified by SS Lootah and the supposed to be cut it up to our requirement of approved drawing up to 60mm away from RCC retaining wall.
As we rechecked the modified pile we are attaching the current position of the modified pile surface for your review and to decide since still most of the piles need to be modified more.
So kindly review all the readings attest herewith and provide your final decision to plan the guniting and preparation. Please note that the rear side pile reading and plotting will be completed by end of the day to analyze the current position for your review and decision.
Regards,
For xxx Contracting L.L.C
xxx
Project Manager